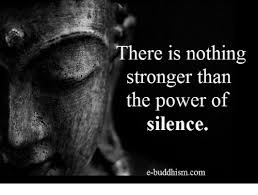 From the moment we rise in the morning, we are engulfed in external noise – the alarm clock buzzing, music blaring, coffee pot beeping. We live our lives amidst noise everywhere, and some of the most pressing and stressing sounds are the ones we live with internally. Our minds are filled with woven thoughts – always one after the next. The external commotion of our environment combined with the inner chatter of the mind leaves little room for us to truly experience silence.Your silence passes many messages; one is that you are somebody, not nobody, a person able to face a crowd and to wait. This is an almost biological power of the big secure animal looking at harmless ones. People understand or better said they feel. After this, you have a better chance to be listened to.
Inner Noise
It's not just the noise outside us which causes us problems, though, but also the noise inside us.In the same way that the natural quietness and stillness of the world around us is always covered over with man-made noise, the natural quietness of our minds is constantly disturbed by the chattering of our ego-selves. This chattering fills our minds from the moment we wake up in the morning till the moment we go to sleep at night an endless stream of daydreams, memories, deliberations, worries, plans etc. which we have no control over and which even continues when we fall asleep. This 'inner noise' has as many bad effects as the mechanical noise outside us. It actually creates problems in our lives, when we mull over tiny inconveniences or uncertainties which seem to become important just because we're giving so much attention to them, and when we imagine all kinds of possible scenarios about future events instead of just taking them as they come. It means that we don't live in the present, because we're always either planning for and anticipating the future or remembering the past. And this constant inner chattering also means that we can never give our full attention to our surroundings and to the activities of our lives. Our attention is always partly taken up by the thoughts in our minds, so that wherever we are and whatever we're doing we're never completely there.
It's probably possible to say that there's also more of this 'inner noise' inside human beings than there's ever been before. The hectic pace and the constant activity of our lives, the massive amount of external stimuli we're bombarded with, and the barrage of information which the mass media sends our way, have made our minds more restless and active. We've got to juggle dozens of different problems and concerns in our minds just to get by from day to day, and every new thing we see or every new piece of information which is sent our way is potentially the beginning of a whole new train of thought to occupy our minds.
Feed and Grow that Silence
Reading spiritual books or articles, listening to enlightened masters, practicing yoga or qigong, listening to music that you resonate with, dancing and moving your body will feed and nourish your silent core within.Meditation is the ultimate channel and food for inner silence. However, unlike nature, which is effortless silence, meditation may be slightly more challenging. Sitting or lying there unmoving and in quietude, the brain may seem anything but silent or still. One used to find that whenever there was drama in my life, our brain would get louder. The thoughts were more controlling and dominating, the emotions more intense, and our energy zapped. It was almost like our thinking brain was sucking up all the energy from the entire body. But as we continued to feed and grow that silence by persisting and holding in quiet meditation, or nourishing it through active meditative activities that anchored it.
Silence is Powerful
It's between the notes of some of the greatest songs ever recorded. We don't always notice because multiple tracks of vocals, percussion, string and horns block it out. But silence is there. Without it, the recording would just be noise. Adjust silence and the song changes. Silence is prevalent within the greatest speeches in the world. The dramatic pause has been mastered by the best orators of our time.